Ryan Teddy
 
Contestant Profile
Hometown
United States
Longevity
Seasons Competed
2
Total Number of Days
60

---

Tribe(s)
Slytherin
► Montrose Magpies
Nargles
Placement
6/20
Challenge(s) Won
6
Vote(s) Against
6
Day(s) Lasted
33

---

Tribe(s)
Arena
Arma
Tesserae
Placement
10/18
Challenge(s) Won
3
Vote(s) Against
11
Day(s) Lasted
27
Ryan Teddy is a contestant on Survivor Hogwarts & Survivor Panem.
Profile
Hobbies: editing wikis, reading
Pet Peeves: people who say "i could give a shit"
3 Words To Describe You: lazy fucking bitch
Name 1 thing not many people know about you: im half cuban
Favorite Survivor Season and Why: this is hard but ill go with guatemala since its underrated
Survivor Contestant You Are Most Like and Why: candice cody because im perfect
Favorite Fantasy Location: hogwarts duh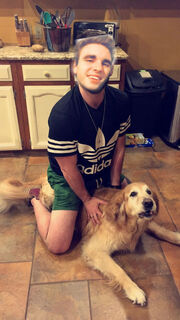 Voting History
Survivor Storybook: Hogwarts
Ryan Teddy's Voting History
Episode
Ryan Teddy's
Vote
Voted Against
Ryan Teddy
1
Slytherin Tribe Immune
2
Slytherin Tribe Immune
3
Slytherin Tribe Immune
4
Billy
-
5
Chrissa
-
6
Corey
-
7
Benjamin
Abbey
Individual Immunity
8
Montrose Magpies Immune
9
Benjamin
Benjamin
10
Allison
Nick
11
Jenny
-
12
No Tribal Council
13
Self-Vote
Bia, Mike, Samantha
Voted Off, Day 33
Voted for
Sole Survivor
Bia
Survivor Storybook: Panem
Ryan Teddy's Voting History
Episode
Ryan Teddy's
Vote
Voted Against
Ryan Teddy
1
-
2
Dylan
Dylan
3
Bernel
Bernel
4
Arma Tribe Immune
5
Constance
-
6
No Tribal Council
7
8
Jaiden
Andrew, Isaac, Jaiden,
Jakey, JC, Jordan, Sam,
Samantha, Zack
Voted Off, Day 27
Ad blocker interference detected!
Wikia is a free-to-use site that makes money from advertising. We have a modified experience for viewers using ad blockers

Wikia is not accessible if you've made further modifications. Remove the custom ad blocker rule(s) and the page will load as expected.